MERCY AIGBE MOURNS THE LOSS OF HER SISTER
Mercy Aigbe is currently mourning the sudden death of her younger sister Elizabeth Orobosa Ajayi, describing the day she died as the hardest day of her life.
In an Instagram post, the actress noted that the tragic incident still feels like a nightmare to her but God knows best.
She wrote:
Toughest Day of my life………?
I thought I could withstand whatever life throws at me but nothing prepared me for this sudden, horrible separation … This past one week has been the darkest of my life!!!! I thot I was having a bad dream! I kept thinking someone will wake me up! From the hospital begging the doctors to try all they can, to the morgue hoping you will move your limbs, I prayed! I prayed fervently !!!Hoping and desperate for a miracle! .,,, Till this morn I was hoping they will call from the morgue to say you had sneezed, opened your eyes, moved your limbs ?? I prayed! …… but God knows best …,,,… To everyone who called, sent DM, texted, to those who came to see me despite the lock down, for all your prayers , I say a very big thank you, May we not mourn over our loved ones in Jesus Name !
To my darling sister Mrs Elizabeth Orobosa Ajayi, I will miss you?…. but it is well .
Fly high and soar with the angels sis! Adieu ?????????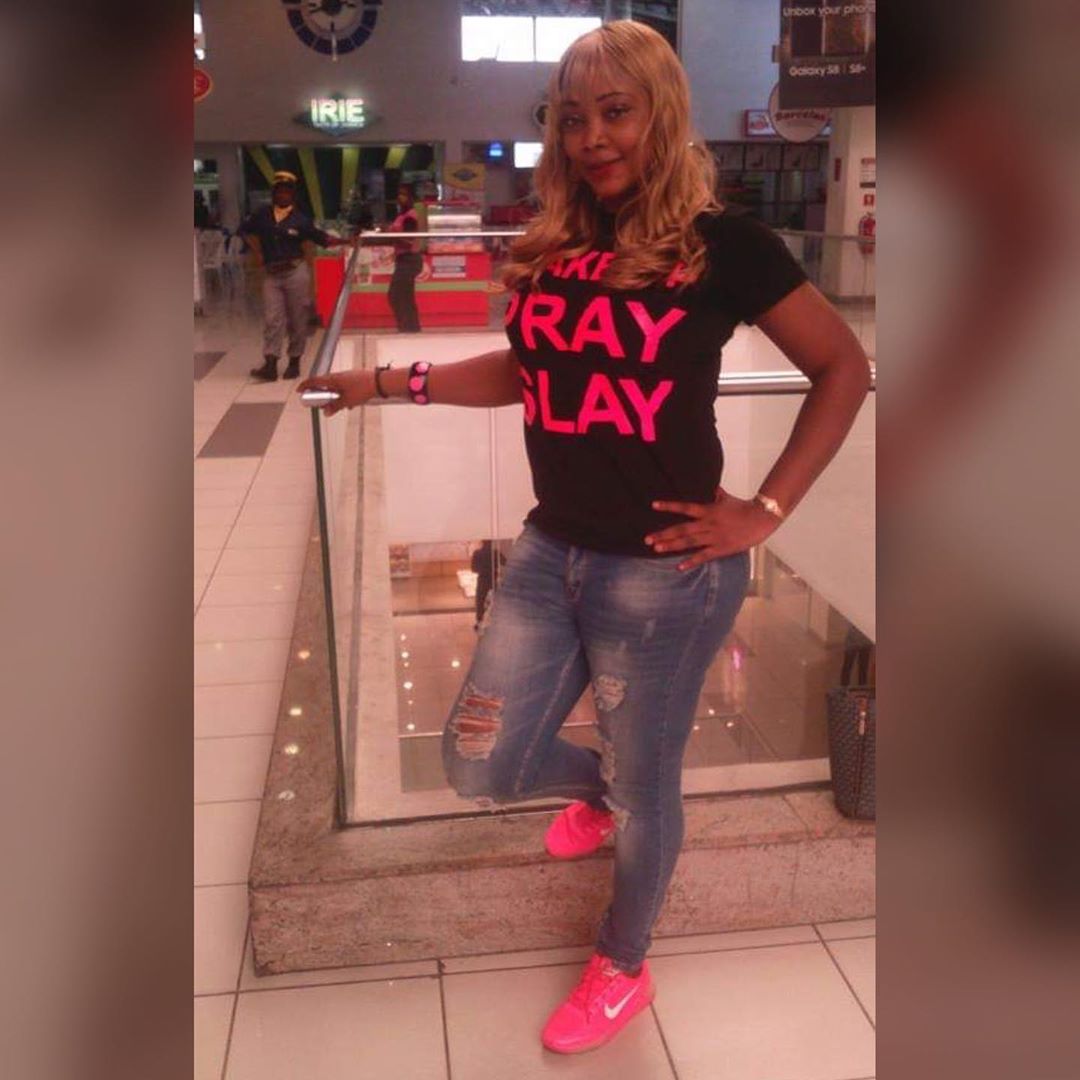 WE'LL PUSH, PUSH UNTIL YOU WIN, PRESIDENT BUHARI ASSURES OKONJO-IWEALA
President Muhammadu Buhari Monday in Abuja assured Nigeria's former Minister of Finance and Economy, Dr Ngozi Okonjo-Iweala, that the country will explore every opportunity and deploy its entire energy to ensure that she becomes the Director-General of World Trade Organisation (WTO).
Dr Okonjo-Iweala is one of two candidates contesting for the top position of the multilateral institution.
President Buhari, who received the former Managing Director (Operations) of the World Bank at the Presidential Villa, said she deserved more support to get the top job because of her profile and diligence in serving the country, and the world.
"I assure you that we will do all that we can to ensure that you emerge as the Director-General of WTO, not only because you are a Nigerian, but because you are a hardworking Nigerian. You deserve this,'' he added.
The President assured Dr Okonjo-Iweala that he will make more phone calls, and send letters to some world leaders for more support.
"I did the same for Dr Akinwunmi Adesina for President of the African Development Bank. Both of you served the country under the Peoples Democratic Party (PDP). You are both highly qualified. We will continue to support you. I will immediately make those calls,'' the President told Dr Okonjo-Iweala.
In her remarks, Dr Okonjo-Iweala, a renowned development economist, thanked the President and his ministers, particularly the Ministers of Foreign Affairs, and Ministers of Industry, Trade and Investment for supporting her staunchly.
"I feel very proud of Nigeria. I am getting so much support from you, Mr President, Chief of Staff, Ministers of Foreign Affairs and Ministers of Industry, Trade and Investments. The ministers have been working around the clock to ensure that I succeed,'' she said.
The former Minister of Finance also appreciated ECOWAS leaders for their endorsement, mentioning in particular the outstanding contributions of President Mahamadou Issoufou of Niger Republic and immediate past Chairman of ECOWAS as well as President Alhassan Quattara of Cote d'Ivoire.
She asked the President to "make one final push within the week to beat the Koreans and bring this to Nigeria by sending a few letters and placing telephone calls to some world leaders, and also thank others for their support.''
"Mr President, put a smile on my face,'' she said, "I am very proud of the country.''
Garba Shehu
Senior Special Assistant to the President
(Media & Publicity)
October 12, 2020
TOP THINGS TO KNOW ABOUT MODE 9
Babatunde Olusegun Adewale is a popular Nigerian rapper and lyricist who goes by the stage name, Mode 9. The rapper has been in the industry for a very long time and is one of the leading rappers in Nigerian music history. He has recorded several albums and also had mixtapes released to his name. He is also a multi-award winning rapper, having a record of most wins at the Headies Awards. He owned the "Lyricist of the Year" award category for a long time and no one has been able to dominate as much as he did in recent times. Join me as I take you through his early life and childhood, music career, personal life and some of his songs.
MODE 9'S EARLY LIFE AND CHILDHOOD
The rapper was born on the 14th of June 1975 in London, United Kingdom to Nigerian parents who hailed from Osun State. He is the third children of his parents. His secondary school education was at Agboju Seconday School and then he proceeded to Federal Polytechnic, Bida in Niger State where he bagged a degree in Building Technology. His music influences were Grandmaster Flash and The Furious Five. 
MODE 9'S MUSIC CAREER
Mode 9 started music as far back as the early 2000s. He released his debut project in 2004 for "Malcolm IX". The album enjoyed a fair amount of success and it helped gained the rapper popularity in the industry. He was known for his incredible rap style and fast became one of the lead rappers in the industry. He released another album two years later in 2006 for "Pentium IX". At the time, he was already recognised as a good lyricist and rapper and he was already bagging awards for it.
Mode 9 didn't stop at that, he released several other albums. He has recorded eight studio albums and five mixtapes to his name. He has also released five featured albums with the most recent recorded with Black Intelligence for "Hence4th" in 2018. His most recent album was in 2019 for "Monument". The rapper, at a time, stopped releasing his albums in Nigeria because he felt Nigerians gave up on him.
His awards list is quite the collection. He has won 9 Headies Awards to his name and bagged the Lyricist Award of the Year seven times in a row, which still stands as a Headies record. He also has won a number of Channel O Awards for music videos. 
MODE 9'S PERSONAL LIFE
Mode 9 loves to keep information about his personal life private. There is no known information about if the veteran rapper is in any relationship.
MODE 9'S SONGS
Some of his songs include;
Where Una Dey

Nigerian Girls

Insulin

Elbow Room

Nine

Cry

Kaiser Flow

419 State of Mind

Collage

It's a Goal

360 Poetry

Super Human

Polymath
TOP THINGS TO KNOW ABOUT MO CHEDDAH
Modupe Oreoluwa Oyeyemi Ola is a Nigerian singer, rapper and songwriter who goes by the stage name "Mo Cheddah". She always loved music as a child and even started singing from a young age. Her big break came with the release of her song titled "The Finest" featuring Sauce Kid and Tito. Following the release of the track, Mo Cheddah went on to drop even more songs and then her debut album. "Komaroll", "If You want me" and "Destinambari" featuring Phyno are three of her other big songs in her career. Join me as I take you through her early life and childhood, music career, personal life and some of her songs.
MO CHEDDAH'S EARLY LIFE AND CHILDHOOD
The talented singer was born on the 26th of October 1990 in Lagos though she hails from Osun State, Nigeria. She was the fourth of five children. She had her early education in Lagos with her primary school education at University of Lagos Staff school and her secondary school education at Our Lady of Apostles school in Yaba, Lagos. After that, she proceeded to the University of Lagos to pursue a degree in Creative Arts. 
MO CHEDDAH'S MUSIC CAREER
Mo Cheddah's music career started from when she was 12. She got signed to a record label named Knighthouse Entertainment when she was 13. At the time she was still in school and she expected to be a child star. She used to spend time in studios during her holidays. She released her first song when she was 17 and from there she became popular. The first single was titled "Las Birdie". She went on to record the song with Sauce Kid and Tito titled "The Finest". The song was a hit upon release and helped her gain even more popularity. The song ultimately launched her music career.
Following up the previous successes of her singles, she dropped another hit titled "If You Want Me". The song also enjoyed a period of success and got her the award for Best New Artist at the MTV Africa Music Awards (MAMA) in 2010. The video for the song also got Best Female Video at the Channel O Music Video Awards. Her debut album dropped in 2010 for "Franchise Celebrity". She left her record label, Knighthouse Entertainment, after a while and went on to start her own which she called it "Cheddah Music".
 Mo Cheddah took a break from music when she was 21 because she wanted to enjoy a normal life. She came back after a couple of years. 
MO CHEDDAH'S PERSONAL LIFE
She is married to longtime boyfriend,  Bukunyi Olateru Olagbeji. Asides music, she is a fashion designer. She also runs a blog.
MO CHEDDAH'S SONGS
Some of her songs include;
My Time

Bad ft Olamide

Tori Oloun

Coming for You ft May D

Destinambari ft Phyno

Survive

See Me

Shampoo

No be Money

Wole Pelu Change