2Baba displayed a Legendary skills in his #20YearsAKing concert and it was amazing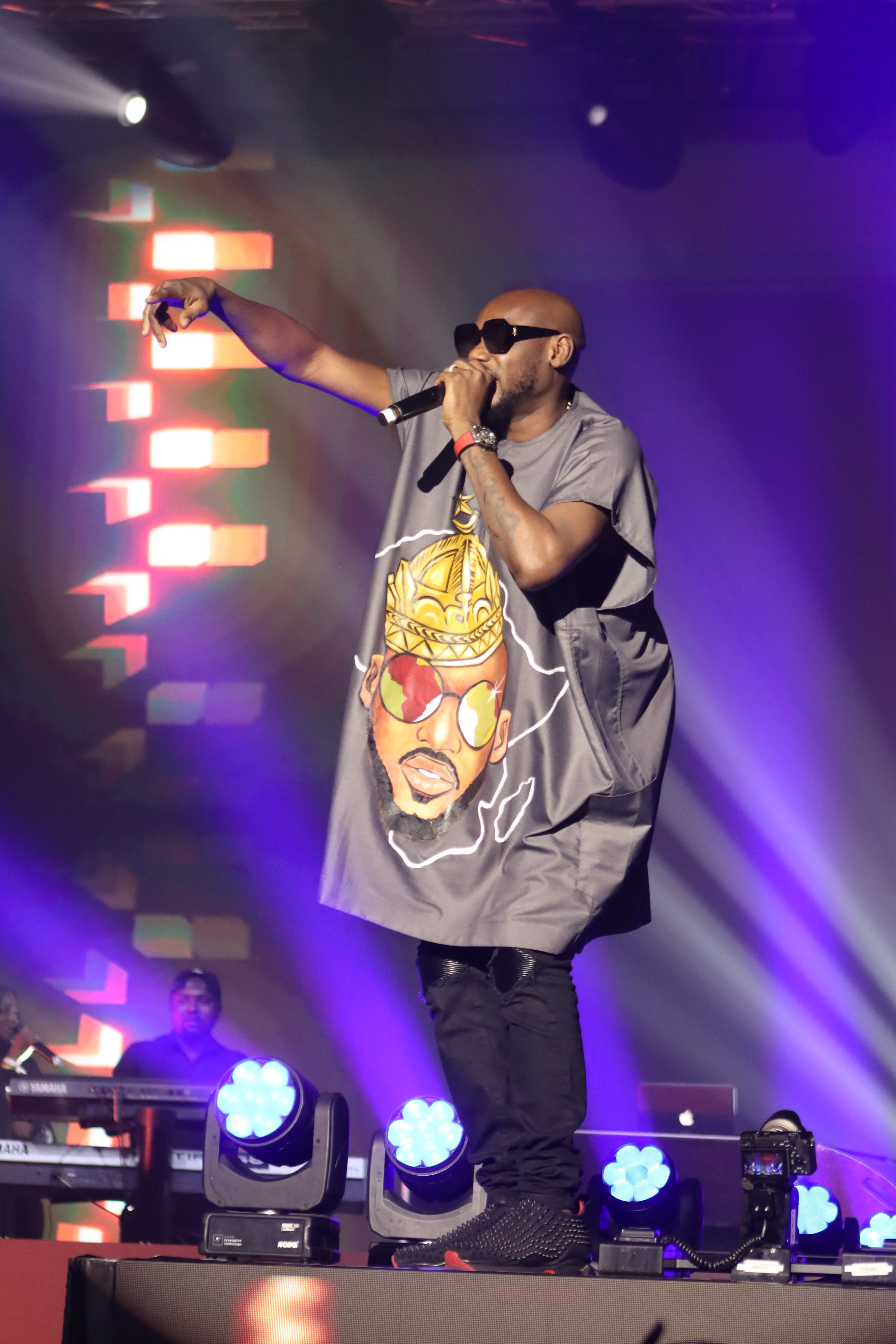 Legendary music icon 2Baba has made another incredible mark in the history of live performance in Nigeria with '20years a king concert', which was held on Saturday, December 28 2019 at EKO Hotel Convention Centre, Victoria Island, Lagos.
Organized by TEC, Achievas Entertainment and Hypertek Digital, the concert has been classified by attendees as the king of all concerts this December following intriguing performances from 2baba and his band members. Aside 2baba, the night also featured several exciting performances from a-list acts including Wizkid, Patoranking, Terry G, Solidstar, Reekado Banks, 9ice, Ycee, Waje, and others.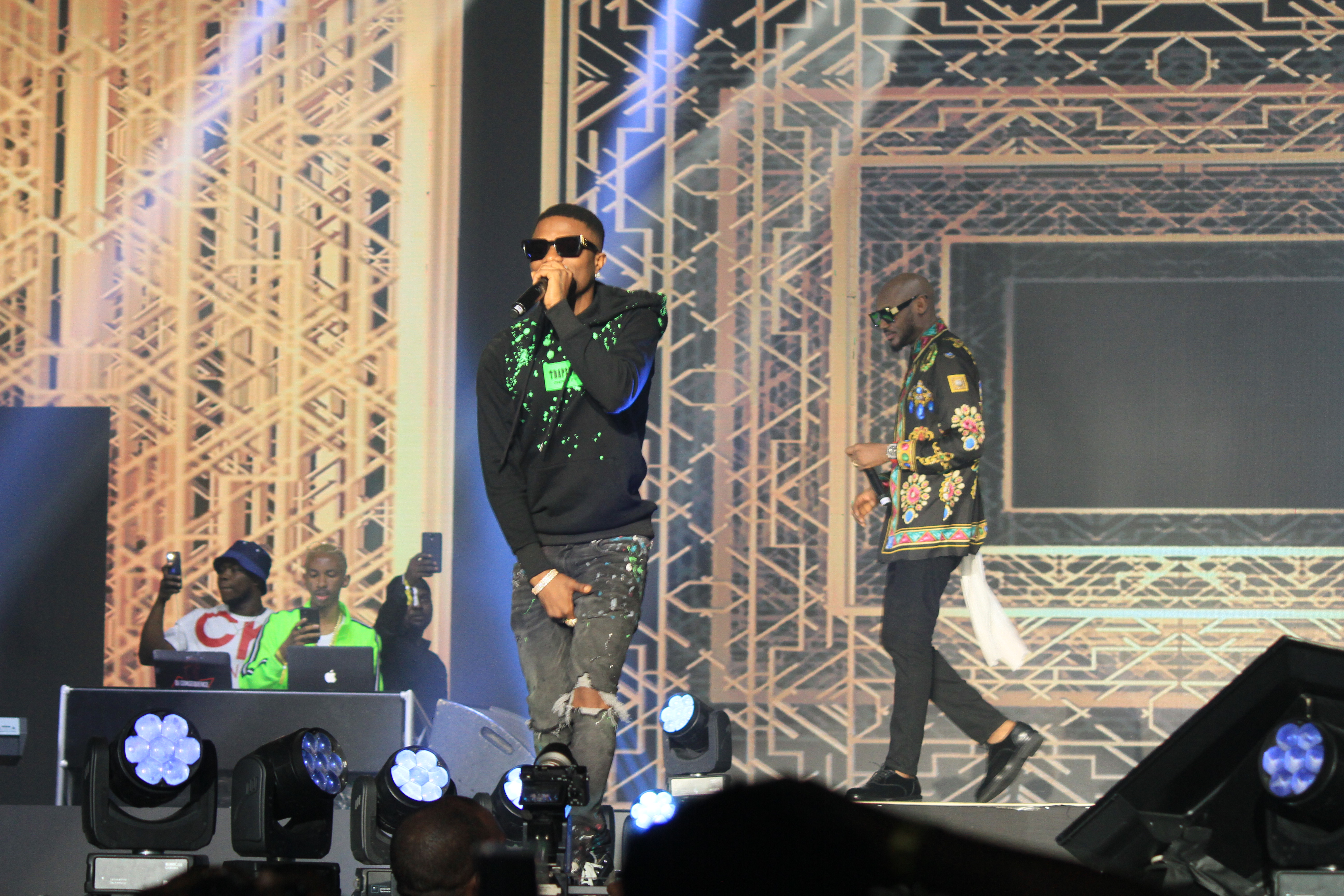 The evening kicked off with the host Sound Sultan who performed an acoustic version of his popular early hit "Motherland". Shortly after the rendition, the host entertained the crowd with a short skit before introducing DJ Jimmy Jatt who kept the crowd moving; playing songs 2baba would not be performing at the show.
2Baba's entrance was grand, a mini-documentary detailing his life, music, the industrial revolution, throwback photos and rise to stardom was aired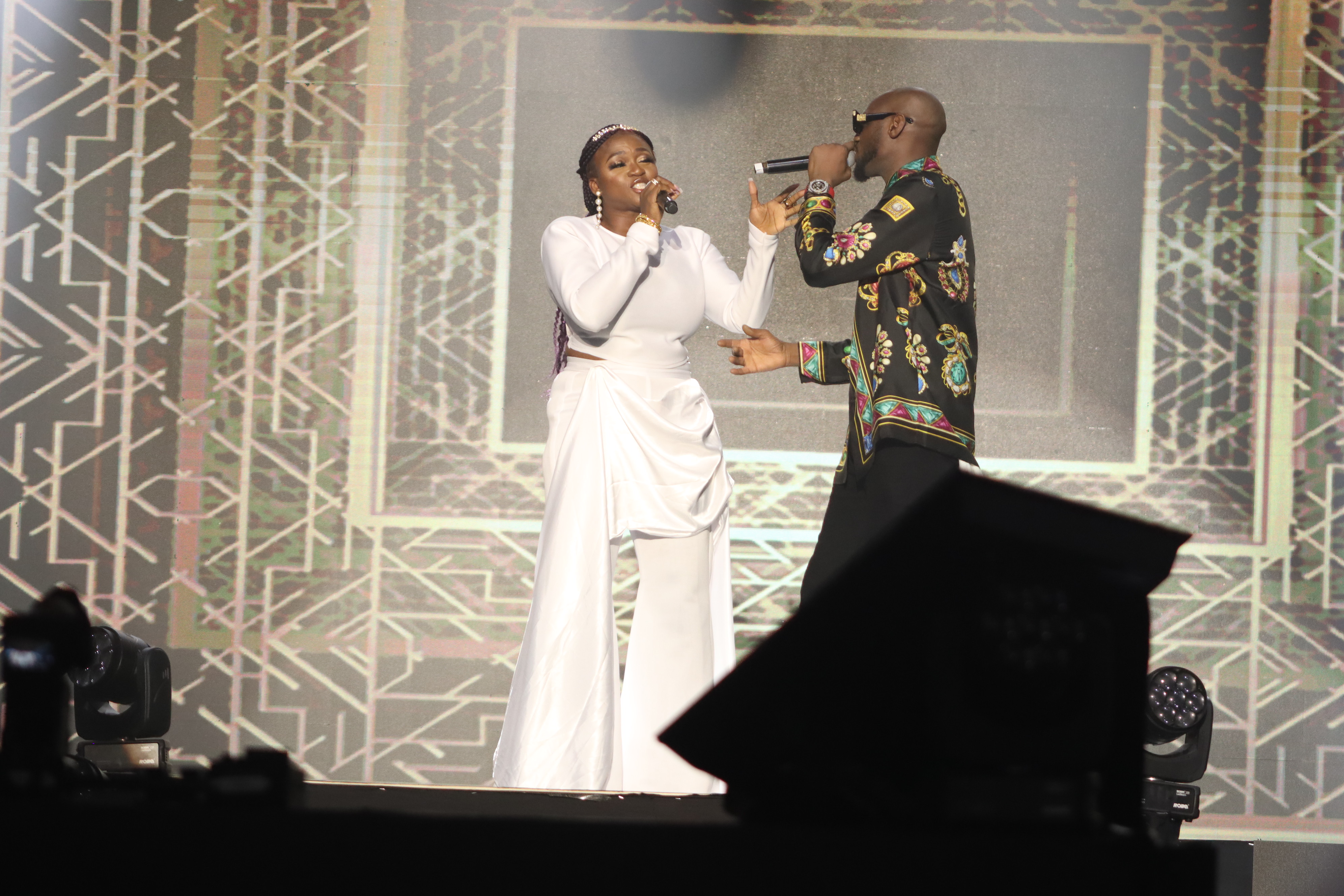 This documentary featured RMD as the narrator. Shortly after the documentary, 2Baba made his way onstage joining T-boiz, winners of the Next up talent to perform their single 'Falling For Me'. The crowd couldn't contain their excitement.
At this point the venue security had to work extra-hard to make sure that the crowd did not overrun the stage as 2baba launched into performances of his considerable hit catalogue: 'For Instance', 'Ole', 'Knock Me off' 'Only Me', 'Implication', 'Nfana Ibaga', and 'I dey feel like'. 2Baba wrapped up his first round of performance with an advice for the youths to practice safe sex by using a condom.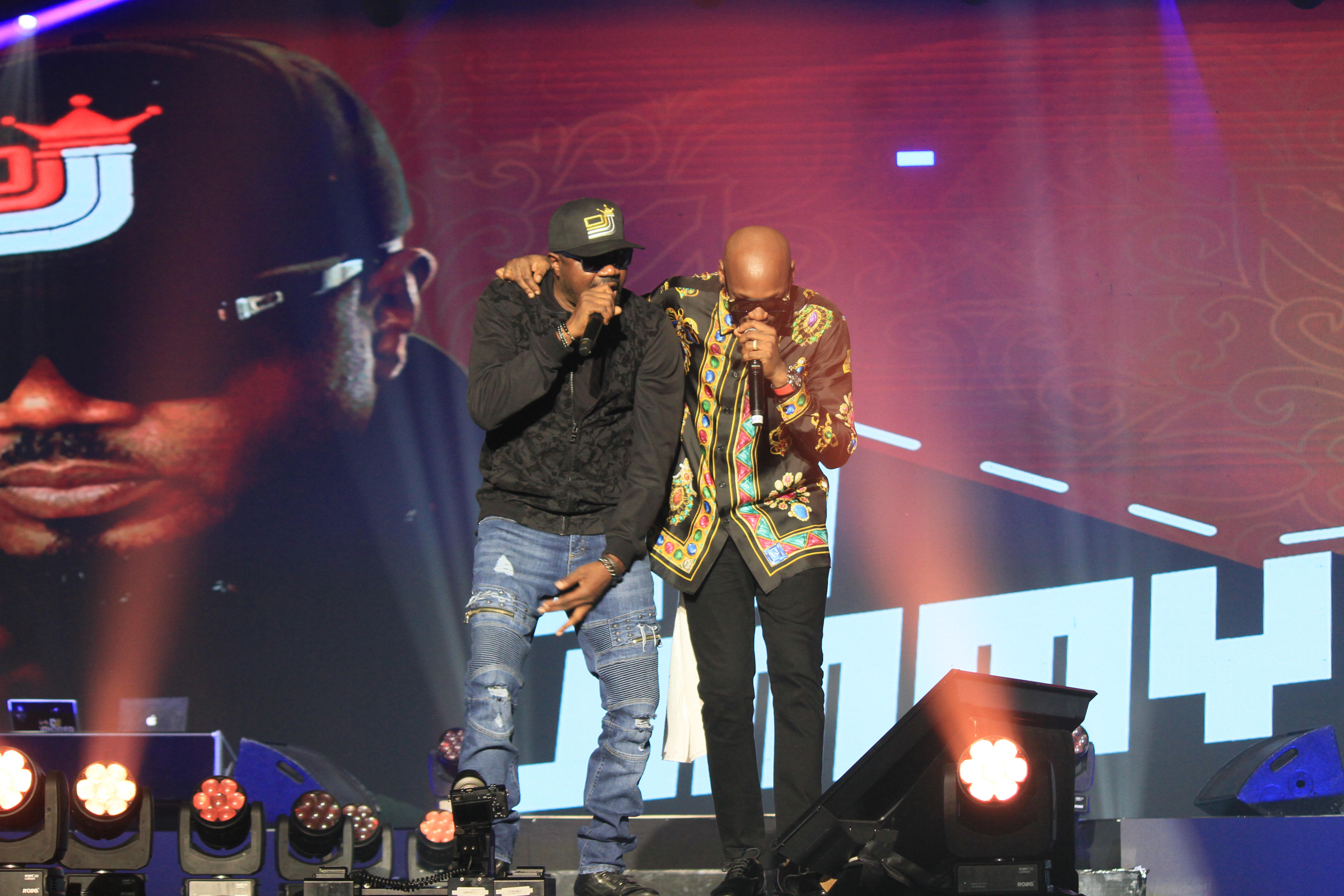 Other top artistes that graced the stage on the night include Patoranking, Reekado Banks, Ycee, Solidstar, Kenny Blaq and Terry G. DJ Consequence then arrived to close a night of fantastic entertainment with delightful music as fans of 2Baba danced till the lights went off to signal the end of the show.
The concert is a celebration of 2baba's 20 years in the Nigerian music industry since the release of classic hit 'knock me off' as a member of the now-defunct Plantashun Boiz in 1999.
Credit: Bella Naija
TOP THINGS TO KNOW ABOUT CHIDINMA
Chidinma Ekile, who stars as her first name "Chidinma", is a Nigerian singer and songwriter. She became popular first when she won the MTN Project Fame top prize in 2010. Since then, she has been known to be quite involved in the music scene, recording a couple of hit singles and collaboration too. Following her run to stardom with Project Fame, she released several songs which were hugely recognized by the fans. "Emi ni Baller" and "Kedike" are two of her big hits till date. Join me as I take you through her early life and childhood, music career, personal life and some of her songs.
CHIDINMA'S EARLY LIFE AND CHILDHOOD
Chidinma was born on the 2nd May 1991. She hails from Imo State. She is the sixth child of seven children. She had a disciplinarian father growing up. During an Interview, Chidinma talked about how she was born blind though it was only for a few months. Her early education was at Ketu, Lagos State, where she was also born and raised. When she was 210, she joined church's choir. She worked as a business promoter prior to her Project Fame Audition. She is a graduate of Sociology at the University of Lagos despite wanting to study Mass Communication at first.
CHIDINMA'S MUSIC CAREER
Following her success at the Project Fame, she started working on her debut album titled "Chidinma". She worked with several people such as Cobahms Asuquo, Tee Y mix, and Sound Sultan. Her song, Emi Ni Baller, was produced by Legendary Beatz with vocals also coming from Wizkid. The song made Chidinma the first female singer to peak at Number one on the MTV Base Official Naija Top 10 chart. All through her career so far, she has released a couple of other songs. She has a host of music influences including Michael Jackson, Darey Art Alade, Mariah Carey, Lagbaja and Onyeka Onwenu.
Chidinma has also starred in a Kunle Afolayan film titled "The Bridge".
CHIDINMA'S PERSONAL LIFE
Chidinma has been rumored to have been in a relationship with Flavor. There was also a time she was linked with Kiss Daniel. Recently, she posted a picture and fans were quick to spot a ring on her finger and most people tagged it an engagement ring.
CHIDINMA'S SONGS
Some of her songs include;
• Kedike
• Jankoliko ft Sound Sultan
• Emi Ni Baller
• Carry you Go
• Run Dia Mouth
TOP THINGS TO KNOW ABOUT CDQ
Sodiq Abubakar Yusuf, also known by his stage name "CDQ", is a popular Nigerian rapper and songwriter who has been known by many for his several hit singles. His style is Hip Hop and rap with an infusion of a street blend. CDQ is widely known for his song "Indomie", which was a massive hit during the time of its release. He has most of his songs produced by star producer, Masterkraft, who he considers a mentor and brother. He is also the one behind the popular street slang "Woss Wobi". Join me as I take you through his early life and childhood, music career and some of his songs.
CDQ'S EARLY LIFE AND CHILDHOOD
CDQ was born on the 6th of May 1985 in the Orile part of Lagos State. He hails from Illorin in Kwara State. He had most of his early education in Illorin before moving back to Lagos for his tertiary education. He is a graduate of Economics at the Lagos State University.
CDQ'S MUSIC CAREER
Towards the start of his career, he was a back up singer for late Nigerian rapper, Dagrin. He was also known to start rapping in English Language while working with MI. His big break came after winning a rap battle at the famous Industry Nite in 2012. This success led him to securing his first label contract with Masterkraft's General Records. In 2014, his track "Indomie" was a huge success as it became one of the biggest hits in the country at the time. The song featured fellow rapper, Olamide with a remix coming also with Davido. He started his own record label in 2016 and named it "No Struggle No Success Entertainment". His first track with the Label was another of his big songs titled "Say Baba".
CDQ'S SONGS
CDQ has a wide collection of songs. Some of them are;
• Indomie Ft Olamide
• Nowo E Soke Ft Wizkid
• Ogini Ft Runtown
• First Come First Serve
• Warey Yo
• Flex
• Owo
TOP THINGS TO KNOW ABOUT BRYMO
Olawale Ashimi, popularly known as Brymo, is a Nigerian singer and songwriter. His style is a mix of fuji, R&B and Hip Hop. He is popularly known for some of his massive hits which include "Ara", "Good Morning" and his feature of Ice Prince's "Oleku". These songs were what announced Brymo has a big artiste in the music industry today. Known for being different and always bringing something new, he has released several songs and albums too which have all gathered huge recognition for him. I'll take you through his early life and childhood, music career, personal life and some of his songs.
BRYMO'S EARLY LIFE AND CHILDHOOD
Brymo was born on the 9th of May 1986 in the Okokomaiko part of Lagos State, Nigeria. His father was a carpenter while his mother was a trader. He is the only son of the couple. He attended Aganju Aka Primary School before moving on to Ajangbadi High School for his secondary school education. He dropped out of the Lagos State University (LASU) a year after gaining admission to study Zoology despite his father's wishes to complete his education. His family was a Muslim one and as such he learned to read the Quran at a young age. He was known to a troublesome child during his childhood and teenage years. After graduating from Secondary School, he wanted to become a professional footballer.
BRYMO'S MUSIC CAREER
Brymo started his singing career at the age of 14, when he released the song the song "Future". His love for music grew from listening to his mother singing. He grew up listening to Fela Kuti and a lot of Fuji music. He started a band together with his friends and called it "The Aliens". The band, which he said looked at the likes of West Life to model itself, were together for a while. Their first studio was a "disaster" according to Brymo. He recorded his first demo in 2006 and packaged it with a cardboard. He sent it to Universal Records but it got sent back though the recording did reach New York.
With the release of his song "Shawty" in 2007, Brymo burst into limelight. He released his first studio album the same year for "Brymstone". He joined Chocolate City in 2010 but after some legal issues he left the label. That didn't stop him as he kept on releasing songs and albums. His album, "Son of a Kapenta", is one of his biggest albums yet. "Heya", off his "Oso" album became quite controversial due to the cover which appeared as Brymo wearing something similar to a G-string. His latest album is "Yellow".
BRYMO'S PERSONAL LIFE
Brymo has a son with his longtime girlfriend, Esse Kakuda.
BRYMO'S SONGS
Some of his songs include;
• Good Morning
• Fe Mi
• Down
• Omoge Campus
• Something Good is Happening
• Dear Child
• Alajo Somolu
• Heya
Some of his albums include;
• Brymstone
• Son of a Kapenta
• Merchants, Dealers and Slaves
• Klitoris
• Oso
• Yellow